Robert F. Kennedy, Jr. Arrested: Waterkeeper President Joins Others In Climate Change Rally Outside White House (PHOTOS)
Posted: 02/13/2013 2:55 pm EST  |  Updated: 02/13/2013 3:23 pm EST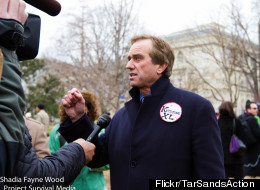 Robert F. Kennedy, Jr. was arrested Wednesday in a show of civil disobedience in front of the White House. Kennedy, along with dozens of other environmental activists, was detained for blocking a thoroughfare in front of the White in protest of the Keystone XL pipeline.
Actress Daryl Hannah, 350.org founder Bill McKibben and Sierra Club Executive Director Michael Brune were among those arrested, according to a statement from Tar Sands Action. McKibben said in the statement, "We really shouldn't have to be put in handcuffs to stop KXL–our nation's leading climate scientists have told us it's dangerous folly, and all the recent Nobel Peace laureates have urged us to set a different kind of example for the world, so the choice should be obvious."
Kennedy, the president of Waterkeeper Alliance, said in an emailed statement from his organization, "It's unfortunate that civil disobedience is the only recourse against a catastrophic and criminal enterprise that will enrich a few while impoverishing the rest of humanity and threatening the future of civilization."
A small group of activists and celebrities staged a protest in front of the White House to put pressure on Obama to reject the proposed crude oil pipeline. The action came ahead of a rally planned for Sunday on Washington's National Mall, which organizers have dubbed "the largest climate rally in history".
Hannah was previously arrested in October in a separate Keystone XL protest in Texas.