Presidential Polls Remain Steady, But Will Hurricane Sandy Disrupt Tracking?
WASHINGTON — As Hurricane Sandy headed for the East Coast over the weekend, pollsters found little change in voter preferences in the race between President Barack Obama and Republican nominee Mitt Romney. With just eight days remaining before votes are counted, the surveys continue to indicate a razor-close margin nationally, with small but persistent Obama advantages in the battleground states that will ultimately decide the election.
Meanwhile, the weather itself threatened to throw a monkey wrench into the pollsters' work, potentially disrupting either their ability to conduct interviews or to reach the millions of Americans who may soon be without electricity or telephone service.
Despite big differences in their methodologies, the daily national tracking polls amount to a standardized, collective check-in on separate samplings adding up to over 2,000 voters a day, so they will provide a sensitive measure of late shifts in support, should any occur nationwide. So far, no meaningful trends have been evident since the narrowing of the race that occurred just after the first presidential debate. The six tracking surveys that reported new results on Sunday showed one point shifts in different directions.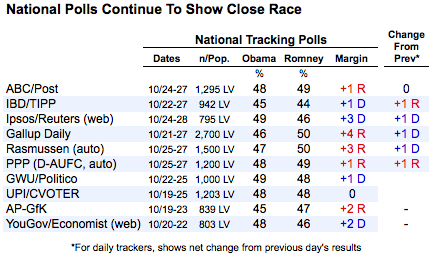 Three more national surveys conducted over the past week showed similar patterns, including the latest Politico/George Washington University Battleground survey released on Monday morning that gives Obama a one-point edge (49 to 48 percent).
The small advantages for either candidate on these individual samplings are not large enough to be considered statistically significant in isolation, and when combined by the HuffPost Pollster tracking model they continue to show a virtually tied race for the national popular vote. Our national estimate is not a simple average, but rather a statistical model that combines both national and state polling data while also controlling for the consistent differences ("house effects") among pollsters. The chart of the model's estimates shows no clear national trend since the first debate other than a slight but ongoing decline in the percentage of voters who say they are undecided.
Of course the election will be decided not by the national popular vote but by separate contests for electoral votes in the 50 states and the District of Columbia. The addition of the new national tracking polls plus more than 20 new statewide surveys over the weekend had a negligible impact on the model's estimates of polling snapshots in the key battleground states. Polls in four states — Ohio, Iowa, Nevada and Wisconsin — continue to give Obama persistent advantages of 2 to 3 percentage points, enough to be considered statistically meaningful leads if all votes were cast today. These states, combined with those in which Obama has bigger advantages, would give him a total of 277 electoral votes, 7 more than needed to win.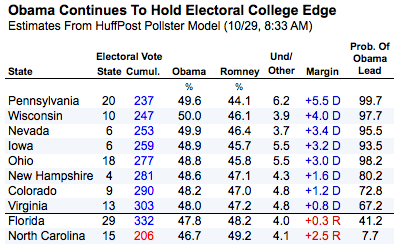 One new Ohio survey, the venerable Ohio Newspaper Organization poll conducted by the University of Cincinnati, indicated a tied race there, with each candidate receiving 48 percent of the vote. However, that survey was fielded from Oct. 18 to 23, so its data were at best already five days old on release. However, eight other surveys conducted over the same period produced results ranging from a tie (on four polls) to Obama leads of one to five percentage points (on four more). Five more Ohio polls fielded since then have all given Obama slight advantages of between two and four percentage points.
The Pollster tracking model estimate for Ohio, as of this writing, gives Obama a roughly three percentage point advantage.
If the narrow margins in states like Ohio were not enough, Hurricane Sandy adds yet another element of drama. As reported by The Huffington Post on Friday, pollsters conducting national surveys will have to decide whether to continue calling this week if, as estimated, power outages and other disruptions affect upwards of 10 million Americans.
The Gallup organization "will most likely suspend all of our national tracking if we feel the representativeness of the data in the Middle Atlantic and Northeast is likely to be compromised" by the storm, according to Gallup Editor-in-Chief Frank Newport. Via email, Newport reports that Gallup "will make a final decision later this morning."
As forecasts tracked a likely landfall for Hurricane in New Jersey, observers noted that the Garden State is home to the corporate headquarters of a number of pollsters, including Gallup, Rasmussen Reports, SurveyUSA and Princeton Survey Research Associates International (PSRAI), a call center that conducts interviews for the Pew Research Center, among other clients.
However, pollsters that use live interviewers typically locate their calling facilities apart from their corporate offices. Gallup, for example, maintains call centers in Nebraska, and PSRAI's main calling facility is located in Stafford Virginia.
"The loss of power and/or telephone connections obviously cripples a call center," said PSRAI CEO Evans Witt, and "also make it inadvisable or difficult for staff and interviewers to reach the call center to work." However, Witt confirmed via email that as of Sunday that storm had not caused problems for PSRAI or its call center.
Via Twitter, Investor's Business Daily editor Ed Carson reported that "IBD/TIPP polling has been suspended due to Hurricane Sandy," noting separately that TIPP's main offices are in New Jersey.
Pollsters who use automated methods to contact respondents are obviously less dependent on the ability of a cadre of interviewers to reach a call center, but they will still face disruptions if power loss affects the computers and phone lines they use to call voters.
Scott Rasmussen, whose automated polling firm is based in Asbury Park, N.J., told the Huffington Post via email that his firm has not attempted to relocate its operations in anticipation of the storm, but does "have access to limited amounts of backup power."
So for political junkies already stressed out by often contradictory polls collectively forecasting a close finish, the weather has added one more source of uncertainty.